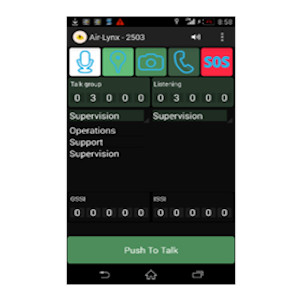 Secure Private 4G LTE Network – Air-Lynx
Implementation of a resilient 4G LTE indoor and outdoor end to end secured "bubble":
Autonomous private inter-team communications network (eMLR, telephony, interoperability with existing systems): Push to Talk. Instant call set-up, Individual calls, Group calls, Emergency calls, Caller identification/authentification, Dynamic grouping, Priority calls, Pre-emptive calls, Short messages, Acknowledgements, Image transmission etc.
Geolocation: Local map, Geolocation of other agents, "Click to call / Click to view" function, Position of fixed and mobile terminals (cameras, drones), positioning update in real time.
High-speed data transmission: retransmission of video surveillance data, connection of autonomous or remotely operated UAV or UGV systems, data from site monitoring systems in real time (sensors and equipment dedicated to the business activity).